angelofboox.livejournal.com posting in

btts_net
It's that time of month again! And in fact, that time of year, when we're about to spread some wintery cheer.  This December, we have this stunning giclee print of
this cover
of
The Golden Compass
, given to us by cover artist Eric Rohmann. It's one of a limited edition of 300 and measures approximately 61 x 41cm (24 x 16 inches). Read on to see how to win it in this month's contest...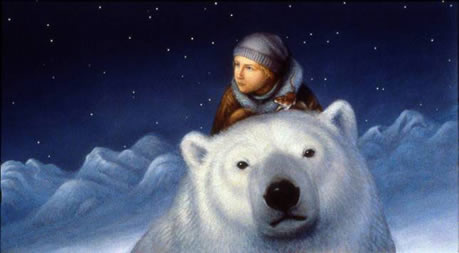 All you have to do to enter our December contest is answer the following question:
What name did Iorek Byrnison give Lyra?
Send your entry in to us at 
contest@bridgetothestars.net
, with the subject line "December Contest" by 11:59pm GMT on the 26th of December. We'll pick one lucky winner from the correct answers to win this great prize! This contest is open to everyone, good luck!
Eric Rohmann is an author and illustrator of books for young readers. You can check out more of his work on his website. And if you don't win the contest, you can buy this limited edition print for $275.00, plus shipping and handling.